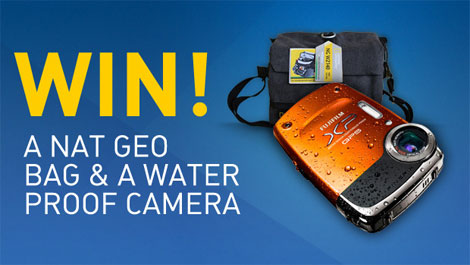 Here's a little random selection of things for you to have a bash at winning today!
Up for grabs first is £250 to spend at Château de Sable - I'd not heard of them before today either but, apparently, if you believe 'children should look like children' - then the timelessly chic and sweet designs of Château de Sable will appeal to you!
The answer is 'Children's clothing company' and the closing date for entries is 30 September.
Last Sunday I took my teenage daughter out shopping for the day.  She wanted to wear a pair of my high-heeled boots and, feeling benevolent, I let her.
A few hours into our epic trip around the Centre: MK she regretted her choice of footwear as her feet were beginning to complain, LOUDLY!
She would have LOVED to have been able to sink her feet into one of these foot and bath spas - I have to say, having been rushed off MY feet all day today, I'd quite like it too.
The answer is 'Scunthorpe Spa' and you need to submit your entry before 8 August.
I've got to get up seriously early tomorrow to make sure I'm in Harwich at 6.30am to meet my mum off the ferry from Holland.
It's not the getting up bit that's the 'problem', it's having to leave the house and look vaguely human as well that could prove tricky.
Getting to Harwich will be dead easy, especially as I've got sat' nav' to help me - if you've yet to discover the joys of such a device then enter this competition to win a Mio Spirit 380 Sat Nav.
The answer is 'Marc Anthony' and closing date for entries is 25 July (that's this coming Monday).
Finally, take your photography to a new level and mess around with taking underwater pictures with a new Fujifilm underwater camera.
The answer is 'London' and you must make sure you enter before 31 July to be in with a chance to win.
GOOD LUCK!
Thanks to robertkay, haigythescotsman and Bigcol1611 at HUKD