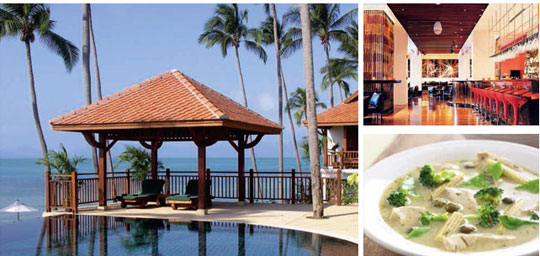 Ooooh it's getting chilly now - it was a fresh 0C when I went out with the dogs this morning - so perhaps it's time to start thinking about warmer climates in far flung exotic places, like Thailand perhaps.
I have to confess that Thailand has never been on my Top 10 list of destinations to go to, but if I was to win a holiday to Thailand I wouldn't turn it down.
Seven nights in Thailand for two people including four nights' b&b at Napasai, the Orient-Express resort on Koh Samui, in a sea-view villa awaits the lucky winner of this competition.
The answer is 'Koh Samui' and the closing date for entries is 31 December.
If cocktails are your thing and you like to show off your mixing skills at parties then you might want to chance your arm and see if you're the lucky winner of this BOLS cocktail set.
My ex-father-in-law gave me a cocktail shaker, two glasses and a bottle of Blue Curaco for Christmas one year - honestly, I've never fancied drinks that are blue and Curaco did nothing to aid their cause.
The answer is 1975 and you need to enter before 7 January 2012.
I'm sure there are some great things to watch over Christmas this year - the Dr Who Crimbo special, along with a two-hour Downton Abbey Christmas treat are two that I'm looking forward to.
How would you like to watch them on a 32" HD TV? Enter this competition and that's what you could win; awesome.
The answer is Antarctica and closing date for entries is 12 December (which is coming round fast already!)
GOOD LUCK!
Thanks to shonae2000, korkythekat, haigythescotsman at HUKD