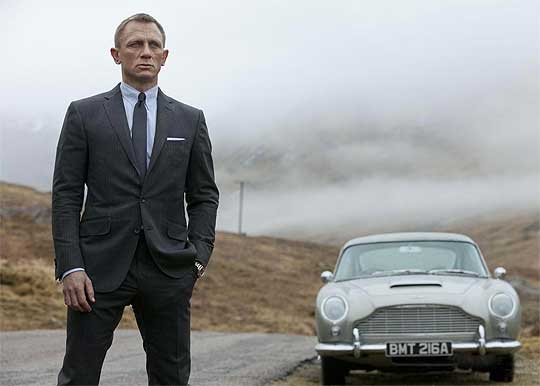 I have to be honest, Daniel Craig as James Bond totally does it for me! Sean Connery was a bit before my time; Roger Moore was my first James Bond and was a bit camp, looking back his time as Bond.
Timothy Dalton came next and, I don't know about you, but I thought he was a bit boring - not camp enough, had no personality and was totally unbelievable as 007 - do you agree, or was Mr Dalton the Bond for you?
Pierce Brosnan was just far too smooth, but Daniel Craig - NOW we're talking!  You certainly can't call him stereotypically good looking - he's rough, rugged and looks more than a little bit 'mean' - he's the perfect Bond, as far as I'm concerned.
Part of Bond's charm is his trademark suit; you can't beat a man in a suit - GREAT if it's a tailored suit bought on Saville Row, but a properly fitted cheaper one will do - with a crisp white shirt, complete with double cuffs, and tie (honestly, Sarah, calm yourself down!).
Waiting for the winner of this competition is a River Island suit and two tickets to see Skyfall, the new Bond movie, at your local Odeon cinema.
You don't have answer any daft questions, simply hand over your details before 18 October to be in with a chance of winning.
GOOD LUCK!
Thanks to pjj1805 at HUKD