Free Competitions: Win a Samsung 3D TV!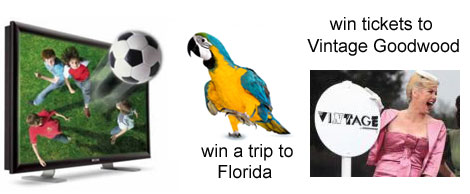 Forget flatscreens, forget high definition...it's time for 3D TV! I can hear the sighs of longing across the country; it seems as soon as you buy one piece of tech' then those lovely manufacturers bring out the next best thing. Well don't buy a 3D TV just yet, enter this competition and see if you can win one instead!
Just answer this question: Which Academy Award winning movie does Dev Patel also star in? And enter your details. Simple.
[EXPIRES: 30 July 2010. ANSWER =  Slumdog Millionaire]
If you really don't get the whole 3D thing then this ultimate HD entertainment bundle might be more up your street - win a 32-inch Toshiba HD TV, PS3 console with 5 games and 100 Blu-rays.
[EXPIRES: 19 July 2010 - ANSWER: 2007]
If you  fancy a trip down memory lane then you might like to try your chances at winning these tickets for Vintage Goodwood. I've been to the Goodwood Revival a few times and it's AWESOME, and this new event promises to be just as spectacular! Think retro-festival spanning five decades and that pretty much sums it up.
Answer this question for your chance to win: Who is the 'new' singer with The Faces?
[EXPIRES: 16 July 2010 - ANSWER: Mick Hucknell]
However, if it's all getting a bit much and you just want to get away from it all then here's a chance to win a trip to Florida for two adults and two children (under 12). The prize includes: flights, accommodation, car hire and admissions to Discovery Cove, SeaWorld, Busch Gardens and Aquatica.
All you have to do is say how many Macaws you found on the site - the general consensus of opinion over on HUKD is that there are nine, let me know if you find any more than that!
Good LUCK!