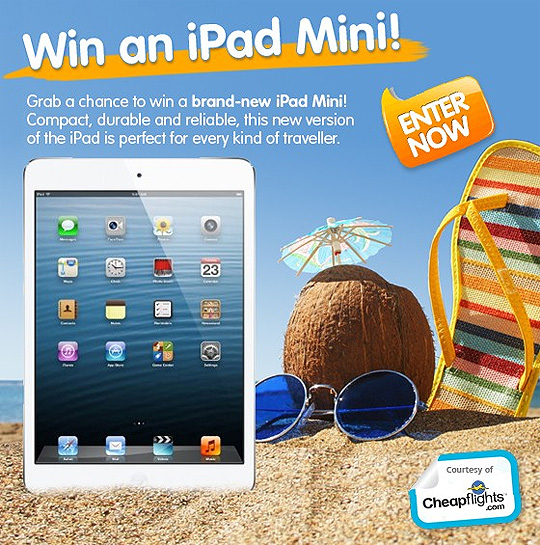 If you're tired of buying things now (I seem to be hemorrhaging cash at the moment, I don't know about you!) then grab a cup of tea (or a glass of something a little stronger), take a brief pause and try your luck with these three free to enter competitions!
First up is an iPad mini - I don't have an iPad as I've never really felt the need for one; I won't have an iPad mini either as I just can't see where they fit into the grand scheme of things.
If you'd like to have a bash at winning one then simply hand over your details and answer a couple of questions - I can't give you the answers as they're your own answers - before 3 January 2013 (my cousin's birthday!)
Up next is a Fatboy bean bag - I've written about them a few times before, they just look COOL!  I must confess I rather fancy one for lounging around on on my patio, but £159 for a bean bag is a bit steep and then I get torn between something like that and a more refined and sophisticated sun lounger.
Anyway, if you'd like to win one, rather than pay for one, hand over your details before MIDNIGHT TONIGHT!  Yes, midnight tonight (11.59pm to be precise) - snooze, you lose on this one I'm afraid.
Finally, fancy something sparkly and pretty?  Then enter this competition to win a Smeidi 'Guardian Angel' bracelet - it's worth £250 and is made from 18ct yellow gold and sterling silver.
The answer to the question is: Little finger and the closing date for entries is 31 January 2013.
GOOD LUCK!
Thanks to marba01 and sezzyf at HUKD