Free Competitions: Win A Holiday To India!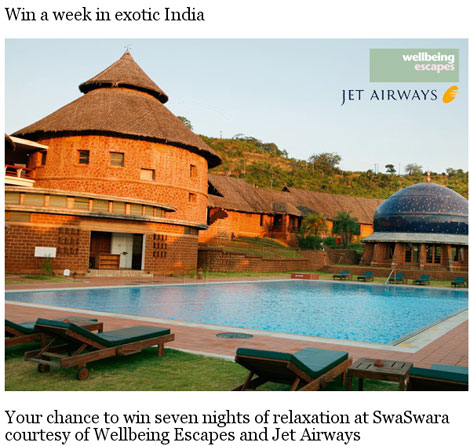 It's the simple pleasures in life that can make you happy - for me, that's reading a good book, listening to my favourite music or watching a romantic movie (when I'm in the mood for that sort of smoochy stuff) so this summer hamper from Morrisons which includes: an iPod Shuffle, The Ultimate Romantic Comedy 6 disc DVD Collection,  £50 worth of Morrisons vouchers, £15 iTunes voucher and 3 best selling books, is a FAB prize for me *grin*
To enter, just answer this question and fill in your details: What's in our delicious picnic muffins featured in the summer issue?
[Expires - 2 September 2010. Answer - Carrot and Parmesan (YUM! They sound lovely!)]
We haven't had a TV up for grabs for a while, have we - so let's sort that out right now. Here's your chance to win a 50" Sony HD plasma TV and Blu ray home cinema system (everything feels as it should now we've got a TV to win *grin*).
Just fill in your details by 4pm on 3 September for your chance to win!
[Expires - 4pm 3 September 2010]
My musical taste is quite broad and my iPod has a mix of almost everything on it, from Rage Against The Machine to a bit of Beethoven and a morsel of Mozart! I'd love to go to Last Night of the Proms but there are all sorts of rules and criteria and ballots you have to go through to even stand a chance of getting tickets for that.
For a fair while now the Last Night of the Proms has spilled over into Hyde Park for the uniquely titled 'Proms In The Park' - here's a chance to win tickets to the Last Night of the Proms in the Park on September 11 2010.
To enter, just fill in your details.
[Expires - 4 September 2010]
And finally, how would you like to jet off for a fabulous week away in INDIA!? This prize is amazing - there's so much that comes with it I can't possibly list it all, go and see what's up for grabs and then enter for your chance to win; just fill in your details.
[Expires - 5 September 2010]
GOOD LUCK!
Thanks to Yorlasty, BlueMG, kerrall and KAC over at HUKD!