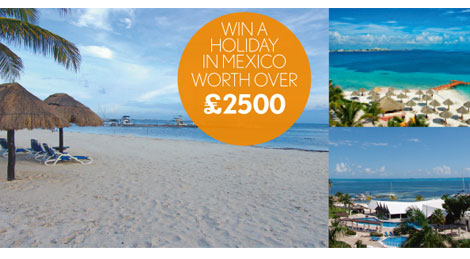 I'm not one for camping or going anywhere that requires me to take away a TON of stuff. But if you are then you might be in need of a roofbox!
This Thule's Spirit 780 roofbox has a capacity of 380 litres and could be yours if you're the lucky winner.
The answer is 380 litres and closing date for entries is 13 April.
If you'd rather spend your free time vegging out in front of the TV then how would you fancy a new LG 32" HDTV and Blu Ray Player? That's what's up for grabs with this competition.
The answer is Stone and you need to enter before 13 April to be in with a chance.
Enter this one and you could win a Sonos S5 and an iPad (the Sonos is a wireless music system if you didn't already know...it's ok, I had to look it up too).
The answer is 'iTunes, internet radio, Spotify, Napster, Last.FM' and you need to register/log in then submit your answer before midnight 14 April.
I've never been to Mexico, it's not even been somewhere I've considered going to but having just looked at some pictures, I think I might have to add it to my list of potential holiday destinations!
If you're the lucky winner of this competition you'll get: A seven-night all-inclusive stay in a Spa Deluxe room at the Ocean Spa Hotel, Yucatan Peninsula, Cancun, Mexico, for two adults (over the age of 25) sharing, including flights and transfers for two to Cancun.
Fill in your details before 16 April for your chance to win this rather fab' holiday.
GOOD LUCK!
Thanks to andywedge, portwest, kittywhiskers and Jedi Master at HUKD