Free Competitions: Win A Handmade Customised Footstool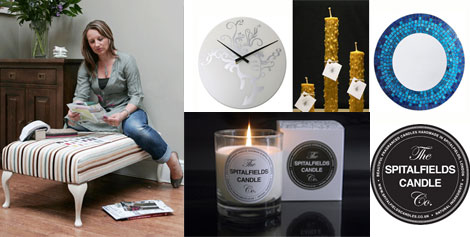 Oddly enough, much as I love Spa breaks, this is isn't the competition I'd most like to win today!
It's this one - a customised footstool from Pins and Ribbons. I adore footstools and incidental furniture collected over the years, it's what makes a house a home and gives it character in my opinion.
No silly questions for this one, just fill in your details.
[Expires - 14 November 2010]
The footstool above is completely made in England and the company has an eco-friendly approach. If that's important to you then this Fairtrade Gift Bundle from Clairabella will appeal to you. Answer the question and fill in your details to win: What sort of mouthwatering soap is sold by Clairabella?
[Expires - 17 November 2010. Answer - Soap Cake]
I also adore candles! So I'd LOVE to win these eight candles from The Spitalfields Candle Company worth £200. Yep you read that right, £200 for eight candles - they do burn for at least 45 hours each though!
Answer this question to enter: Which of The Spitalfield Candle Company's six boutique fragrances is described as "sensuous, exotic and floral"?
[Expires - 19 November 2010. Answer - Ylang Ylang & Patchouli]
Spas always burn candles, and you can win a luxury John Frieda Spa break for two if you enter this competition and answer the question correctly, which you will because I'll give you the answer...I'm nice like that!
[Expires - 19 November 2010. Answer - All of the above]
GOOD LUCK.
Thanks to sepulchre and shonae2000 over at HUKD!