Free Competitions: Win A Hand Painted Toy Chest Filled With Beatrix Potter Goodies Worth £1000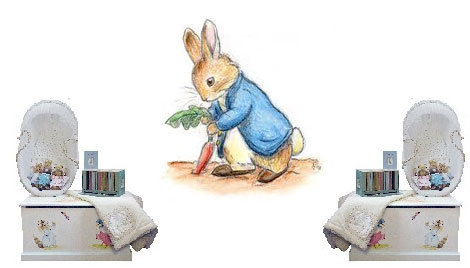 I adored Beatrix Potter as a child; my youngest son's favourite BP story is Mr Jeremy Fisher and if he was a little girl he would have LOVED this hand painted toy chest filled with Beatrix Potter goodies worth £1000.
There are that many things that make up this prize that to list them all would smash through my word limit a good couple of times over - so just click the link and see for yourself, then you can enter whilst you're there.
Before you go, the answer to the question is '1902' and you must enter before 15 June.
Not one of the iPad revolution yet? Nor me, so let's enter this competition and see if we can't win ourselves an iPad2!
The answer is 'bread' and the closing date for entries is 30 May.
Are you a fan of anything John Lewis? Win this competition and you'll have £250 of John Lewis vouchers to spend - ok, so it won't get you very far but it might satisfy that shopping at John Lewis urge for a little while.
The answer is 'C' (cushiony soft Cushelle) and closing date for online entries is 6 June at 8am.
Did you read about the heatwave that was supposed to be inflicting joy and happiness across the country as of last Saturday?
PAH! That's all I can say!  If you're in need of a quick sun fix then enter this competition to win a luxury break for two to the Algarve.
The winner will stay in a deluxe suite at Longevity Wellness Resort.  Each day they'll enjoy a complimentary healthy breakfast served on the restaurant's breathtaking terrace.
Just enter your details before 4 June.
GOOD LUCK!
Thanks to andywedge and Painkiller at HUKD