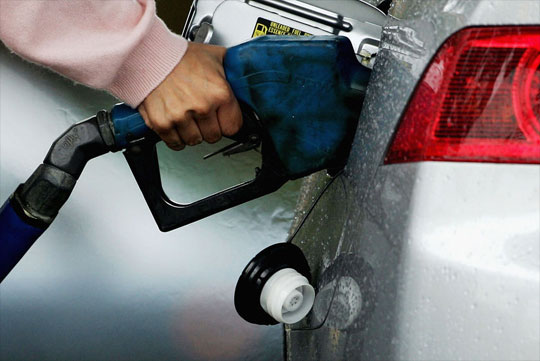 Last Thursday I drove 350 miles and I put just over £110 of petrol in my car in less than 18 hours.
Before the weekend was over, I'd driven another 200 miles and had thrown another £60 at the petrol tank.
I'm DEFINITELY entering this competition to win three years worth of free fuel!
The prize will be delivered in the form of a pre-paid card to the value of £4,605 - it's been based on an average distance driven per year of 10,000 miles in a car with an average of 40mpg at a fuel cost of £1.35 per litre.
The answers are:
207 Access = £179
Not included = Kitchen sink
Red Logo = Page 7
And closing date for entries is 31 December.
I have a fair few destinations on my 'would like to go to' list - Canada is one of them, specifically touring through the Rocky Mountains by train (that's Judith Chalmers' fault that is, ever since I saw her doing it on 'Holiday').
To win this tailored £8000 dream holiday to Canada, all you have to do is say which regions you'd most like to visit and which winter activities you'd like to try, and make sure you do this before 16 January 2012.
It's amazing how many people have never been to South Africa but would like to go.
If you win this 7-night holiday to Johannesburg then we may just bump into each other when you're there!
There's lots to do and see in Joburg; more restaurants, bars and shops than you could ever possibly wish for.
There is a scenery that will take your breathe away, a must-do visit to the Lion Park and the Cradle of Human Kind all wrapped up in fabulous weather.
It's an awesome place (and I'm not just saying that because I live there for part of the year) you'll be changed for the better having been!
The answer is South Africa and the closing date is 20 October.
And finally, one for the kiddies - a set of four, signed, Anne Fine novels; my daughter loved reading Anne Fine when she was small.
The answer is 'Robin Williams' and you need to email your entry to Red House Books.
Email your name, address and contact number to competitions@redhouse.co.uk, with "Anne Fine Competition" as the subject title.
Alternatively, you can post your entry to:
Red House Competitions
Catteshall Manor
Catteshall Lane
Godalming
Surrey
GU7 1UU
GOOD LUCK!
Thanks to retiredcynic, andywedge, haigythescotsman and Dispy11 at HUKD