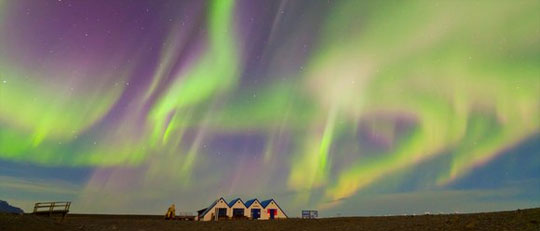 It always seems a bit strange telling you about competitions to win kids toys AFTER Christmas, but then I remember there are birthdays just after Christmas (my cousin is one, with her birthday on 3 January) so here's one to win a wooden Thomas railway set, worth £100.
The answer is 'mince pie' and the closing date for entries is 5 January 2012.
If you have girls in your family, who aren't fans of the little blue engine, then here's something for them (wow, I feel like Santa!) - a Playmobil dolls house worth £150 (don't tell the boys it's worth more than their Thomas railway set!).
The answer is 4 and you need to get your entries in for this one, before 8 January 2012.
A few years ago, Tamsin went to visit a friend of ours in Norway - I couldn't go and was properly gutted that I missed out on a girly Noggie weekend, so I think I might just have to enter this competition to win a four night cruise to Norway.
Not only that, the ship will be sailing through sheltered coastal waters, ideal conditions for observing the Northern Lights which are, apparently, giving unusually powerful displays!
I've ALWAYS wanted to go and see the Northern Lights - actually, perhaps you shouldn't enter this one; you wouldn't like Norway, it's cold and dark at this time of year, not very nice at all!
But just in case I haven't managed to put you off, the answers are: Swanage and Joan Hickson and you need to enter before 15 December.
(The other holiday option was Manchester; Manchester...really? Why?!)
If none of those take your fancy then how about £250 worth of vouchers to spend at Debenhams?
You just need to click THIS link and answer the question - the answer is Facebook - before 19 December.
You can also win other prizes like: iPad 2s (of course), Amazon gift vouchers and lots of innocent goodies including orange juice carafes and collectable innocent glasses.
If you want to get your hands on those, just go and play the new online Innocent smoothie game called Fruit Picker - you just need to collect oranges and safely deliver them into wooden crates in order to earn points and you can collect digital badges and share them with your friends too, if you're that way inclined.
GOOD LUCK!
Thanks to redvers, andywedge and Syzable at HUKD