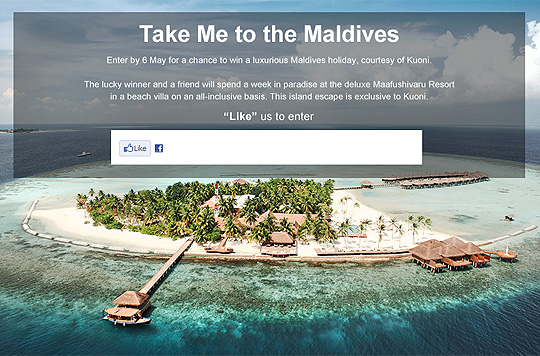 Sunday means coffee, and coffee means biscuits (or cake, or BOTH!) so to celebrate Sunday, here's your chance to win a biscuit hamper. But it's not just a hamper full of biscuits (although it is), it also contains a teapot (just in case you're not a coffee fan!) and a couple of mugs.
In fact, here's the skinny on what it contains (which won't help you stay skinny, but what the hell...)
All Butter Shortbread Assortment tin

Apple Crumble Shortbread

Raspberry & Oatmeal Shortbread

Belgian Choc Chunk Shortbread

Butterscotch Shortbread

Cheese Oat Nibbles

Cheese Oat Nibbles & Chive

Cheese oat Nibbles & Chilli

Sultana & Heather Honey Oat Biscuits

Original Oat Biscuits

Four shortbread rounds snack pack

One Dean's teapot; and

Two Dean's mugs
Now tell me you couldn't do some serious damage to those biccies on a Sunday!
The answer to the question is: Aberdeenshire and you need to get your entries in before 2 April.
I couldn't resist this competition - the prize is a two-night stay at a luxury Macdonald hotel. Well, with a name like that they couldn't be anything else could they!
There are 45 Macdonald hotels in the UK and you can choose to stay in whichever one you like; awesome, sometimes there's nothing quite like a weekend away.
You don't need to answer any questions, just hand over your details before 18 April to be in with a chance of winning.
Okay, if you fancy going a little further afield then how about a trip to the Maldives? If you win, you, and whoever you want to take with you, will enjoy seven nights at the 4.5-star Maafushivaru resort in a beach villa with an all-inclusive package. Roundtrip airfare to the Maldives from London is included, plus local transfers by seaplane (that'll be fun!).
Various things are excluded, like: UK transfers, transportation to the London departure airport, any meals and drinks other than those stated, and any activities in the resort. You also have to take your holiday between 16 May – 22 July 2013.
All you have to do to enter is LIKE the Facebook page before 6 May.
GOOD LUCK!
Thanks to pjj1805, mikbecfly and whiskeyboy at HUKD