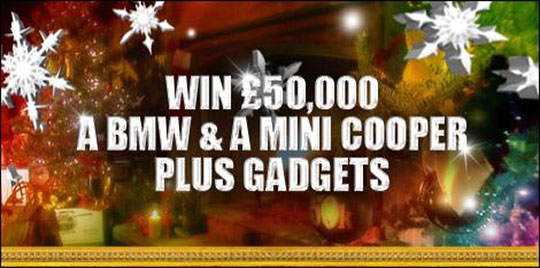 Everything in the title of this competition post is for just ONE competition; someone is going to win the whole lot and it might as well be you (or me) as much as anyone else.
The only way to be in with a chance is to ENTER, you most definitely won't win if you don't give it a go.  The list of gadgets is insane, by the way, far too many to list here.
You just need to fill in your details before 3 January 2012.
After all that lot, this little prize of £100 of Waitrose vouchers looks tiny and almost cute by comparison, you'll also win a six month supply of honey from the New Zealand Honey Co.
The answer is 'C- Nectar' and closing date for entries is 19 December. 
My two teenagers love skiing, my two youngest step-children are currently skiing in Italy and I can't think of anything worse! I loathe the snow and don't like the cold, so I'll leave the skiing holiday competitions to you (and them).
If you're the lucky winner of this competition then you'll win a three nights/four day package  ski holiday to St Anton, including private driver, chef and inclusive of breakfast, afternoon tea, canapés and 4 course meal with champagne and wine in the evenings.
Okay, actually all of that bit sounds quite cool - I could cope with all of that and just not do the skiing!
The answer is Top Gun and closing date for entries is...hmmm, your guess is as good as mine, but you have to take the holiday between 4 and 12 March 2012, so I'd enter now just to be on the safe side.
GOOD LUCK!
Thanks to Painkiller, Syzable and fatemeh at HUKD