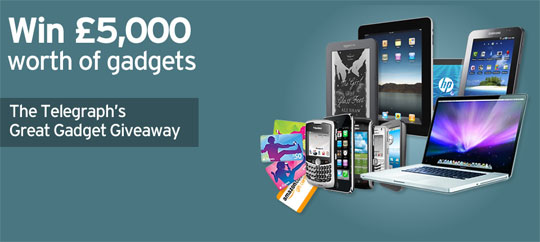 I wonder if there'll be a rush of iPad 2 competitions in the run up to the release of the iPad 3?  OR whether they'll drop off the face of the earth and it will be as if the 2 never existed.  We'll find out soon enough, in the meantime here's an iPad 2 for you to try and win.
Just answer questions about breakfast and submit your details before 31 March.
If a single gadget just isn't enough, how would you like to win £5000 worth of gadgets? Sounds pretty awesome to me and that's what's up for grabs at the end of this competition - there's bound to be an iPad 2 in there somewhere too.
Just fill in the form and submit your details before 20 March to be in with a chance. 
If you've never been to Paris and fancy flying there for free, then enter this competition to win a couple of flights to the city of love - it's better than a poke in the eye with a sharp baguette and you won't get stuck on a Eurostar train for seven hours either!
The answer is 'Paris' and you need to submit your entries before 23 March.
If you're a hair care butterfly, like I am, and haven't tried Joico products before then you should enter this competition; you could win a year's supply of Joico Smooth Cure worth over £400, it's lovely stuff too!
The answer is '72' and the closing date for entries is 31 March.
GOOD LUCK!
Thanks to soxxy008, marba01, retiredcynic and missgem at HUKD