Free Competitions: Win £500 To Spend In Morrisons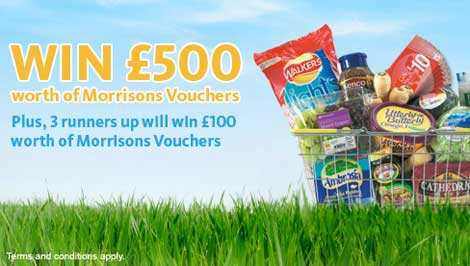 Are you feeling lucky today?
Would you like to win something for nothing (well, apart from a couple of minutes of your time)? Excellent! Then stay a while and enter our Friday selection of competitions!
Along with Toy Story, Shrek is big news at the moment and here's a chance for you to win one of five Shrek prize bundles. Included in your bundle will be: Shrek 1, 2, & 3 on DVD, a Shrek window cling, a movie poster, the officia Forever After handbook, lip balm, and a Shrek Pinini sticker album.
Just answer this question to enter: Which famous actor plays the voice of Donkey?
[Expires - 2 August 2010. Answer - Eddie Murphy]
Here's one just for the girls - WHEN did mascarra become so expensive?! Maybe it was when I stopped buying Superdrug's own for £1.50! Also, with SO many on the market all promising miracles how do you find out which one is right for you, without spending a fortune? WIN some, that's how. Just enter your details to Win one of 1000 Volume Million Lashes Mascaras from L'Oreal Paris.
[Expires - 2 August 2010]
The school summer holidays are upon us and one of the cheapest forms of entertainment is sending the kids outside to play in the garden. If you were to win this kids' wooden climbing house and slide set, getting them IN from the garden could be interesting!
Just select the right answer to this question to enter: How many glasses of fluid does the average child need a day?
[Expires - 3 August 2010. Answer - 6 - 8]
If I didn't have to spend money on groceries every week I'd be LOADED! I remember when £80 a week was a shock to the system, if it comes in close to that now I a) wonder what all the things are that I've forgotten or b) dance for joy at the checkout!
If it's the same for you then enter this competition to win £500 of shopping vouchers to spend at Morrisons. To enter, answer this question: July falls in which season? Ohhh, that's a tough one!
[Expires - 3 August 2010. Answer - erm...Summer, I think *grin*]
GOOD LUCK! See you for more competition fun on Sunday.
Thanks to VeedubyaGti, JBJANEYB and BlueMG