FREE Competitions: Win £500 To Spend At House Of Fraser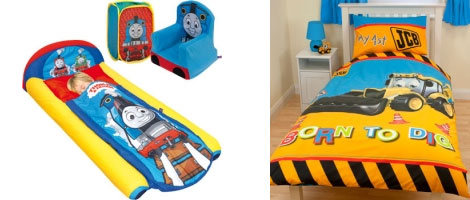 My youngest ADORES anything JCB so I've entered this competition to win a JCB duvet set - there are 12 of them up for grabs so if you've got a JCB fan in your house, give this competition a go!
Just join babywebsite.com for your chance to win (you can always unsub' afterwards if you don't want to stay a member)
[Expires - 7 December 2010]
£500 to spend at House of Fraser would certainly come in handy at any time of year, let alone just before Christmas.
Answer this question: What is House of Fraser? and enter your details.
[Expires - 10 December 2010. Answer - Department Store]
If your little one isn't a JCB fan, then perhaps a bunch of Thomas and Friends goodies would be better for them
This is part of the babywebsite.com giveaways again, so just register (if you didn't already) and enter this competition for your chance to win.
[Expires - 14 December 2010]
3D TV is the hot news of the moment and you could win a complete 3D TV package - 40" 3DTV, two pairs of 3D glasses, 3D Blu-ray player & three new release 3D Blu-rays - and a copy of Saw 3D, if you like that sort of thing.
Just enter your details; easy!
[Expires - no idea, can't find anything to say when it expires anywhere. So enter now if this appeals to you, just to be on the safe side!]
GOOD LUCK!
Thanks to robertkay and bikermatt over at HUKD!