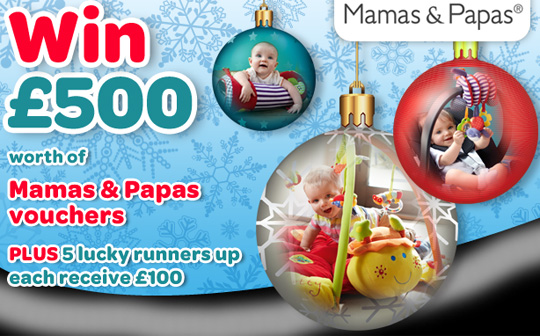 Extra cash is always welcome and I'm sure an extra £500 will be especially handy at Christmas time - all you have to do is register, login and play the Celebrity Smile game by trying to identifying the smiles.
The closing date for entries is 16 December.
Christmas time is such a good excuse for eating lots of chocolates - if you think you cannot possibly buy enough chocolate, then you'd better enter this competition to win some more!
There's a chocolate hamper up for grabs that's worth £70; in it, there is:
A bottle of Running Duck Shiraz Red Wine,
Chocolate Divine Christmas trees in milk, dark and white chocolate,
2 bars of luxurious Divine chocolate,
Ginger Thins,
Mint Thins,
White chocolate and strawberry hearts,
Dark chocolate apricots and Brazil nuts,
Drinking chocolate,
A recipe book; and
Christmas coins
To enter, you just have to enter your details before 19 December.
Five hundred seems to be the number of the moment!  Mamas and Papas are giving away £500 worth of vouchers to spend in any one of their stores or online; there are four runner up prizes worth £100 too.
The answer to the question is Rudolph and the closing date for entries is 2 January 2013.
GOOD LUCK!
Thanks to marba01 and caramelek at HUKD