Free Competitions: Win £15,000 In Cash!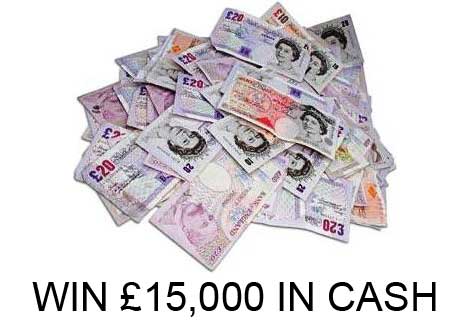 Another week, another batch of competitions done and dusted - well, they will be in just a few prizes time!  Don't forget to let us know if you're ever a lucky winner of one of the competitions we feature.
So what's up for grabs today, some bits and pieces and a B I G pile of cash!
Brighten up any blank wall space in your house with some art bought with the £350 worth of vouchers to spend at LucyArt. All you have to do to enter is answer this question and fill in your details: In what medium does Rob Haigh create his original canvas paintings?
[Expires - 4pm 2 August 2010. Answer - Acrylic]
If you're not lucky enough to have won any of the TVs we've featured so far then try your luck with this Samsung 32 inch LCD TV. To enter just answer the question and fill in your details: What does the TVClean device clean?
[Expires - 4 August 2010. Answer - LCD and plasma screens (PHEW! that was a tricky one!)]
If it's all getting a bit much for you then maybe a relaxing overnight spa break in the New Forest is just what you need. The break includes a one-night stay, breakfast in the Zen Garden, a two-course Thai lunch and three-course dinner in the Manor Restaurant.
The package also includes a mind-body class, use of the award-winning spa facilities, a half-hour Rhassoul mud treatment and half-hour massage or facial.
To enter, just answer this question and leave your details: Which of these dishes usually contains coconut milk?
[Expires - 5 August 2010. Answer - Thai Green curry]
You don't have to watch Loose Women to win the stack of cash they regularly give away (thank goodness for THAT!), all you have to do is come here! There's £15,000 in cash up for grabs so just answer this question and keep your fingers crossed: The Scarecrow, Cowardly Lion and the Tin Man are characters in which film?
[Expires - 7.30am 6 August 2010. Answer - A (The Wizard of Oz)]
GOOD LUCK!
Thanks to sepulchre, BlueMG, shonae2000 and Painkiller over at HUKD!