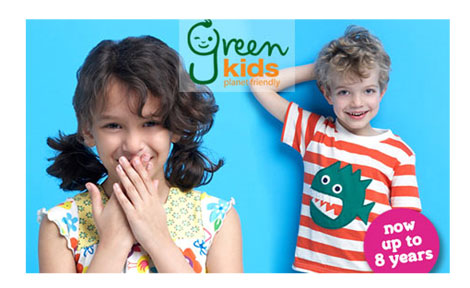 If your kids grow as quickly as mine then any amount of 'free' cash to spend on clothes for them will be very welcome.
If you win this comeptition you'll get £150 to spend on kids clothes at Green Kids.
The answer is Organic Cotton and you must enter before 31 May.
If £150 isn't enough then enter this competition as well to win £500 to spend on Miller childrenswear at Elias & Grace.
Apparently they offer stylish parents an unrivalled retail experience and unprecedented access to the best in chic and unique international designer childrenswear for 0-10 years - OOH get you!
Anyway, the answer is Childrenswear and the closing date for entries is 16 May.
With summer rapidly heading our way it's time to start thinking about outdoor entertainment for your kids; they'll go made for this TP Forest Multiplay set - it's worth over £300 and will last for ages and ages too.
There's no question to answer but you must make sure you get your entry in before 5pm on 27 May.
At the end of a busy day of clothes shopping for your kids and endless pushing of swings in the garden, there's nothing better than sinking into a bed that has fabulous crisp bedlinen on it; enter this competition and you can win £365 worth of luxury bedding from The Fine Bedding Company.
Just enter your details before 7 June for your chance to win.
GOOD LUCK!
Thanks to geekylawyer, robertkay and lucersymum at HUKD