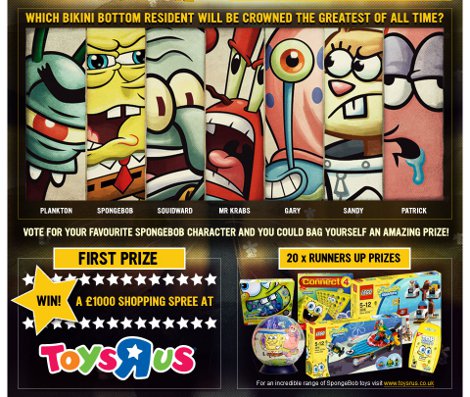 I know it's still the summer but if you're the lucky winner of this £1000 Toys R Us voucher then that'll be you completely set up for Christmas and a good few birthdays!
You have to be under 16 to enter, so you're going to have to enter on behalf of your child(ren).
To enter, all you have to do is name your your child's favourite Sponge Bob Square Pants character.
Closing date for entries is 15 August.
If you have a young Octonauts fan in your household then you'll want to enter this competition.
The prize consists of two Octonauts books and an Octonauts duvet set that won't be available to buy until 2012; there are 100 of them to give away.
To enter, just fill in your details before 20 January 2012 (you have a little bit of time to enter this one *grin*)
If you LOVE shoes, and aren't fussed that they're not Louboutins, then here's a competition for you.
Rainbows Children's Hospice are offering Fans on their Facebook page a chance to win £700 worth of Brantano shoe vouchers in return for liking their page.
Just LIKE their page before 23 September for your chance to win.
I love my bed, I don't get to spend enough time in it, but when I do I absolutely ADORE it.
It's super comfortable, huge and one of my most favourite places in the whole world- if you don't feel like that about your bed then maybe it's time you traded your current one in for a new one.
How about a bed worth over £1000?  I reckon you might find that comfy, especially if you didn't have to part with a penny to own it.
The answer is '1,800' and you must enter before 31 August to be in with a chance of winning.
GOOD LUCK!
Thanks to andywedge, lucerysmum and mana2k1 at HUKD