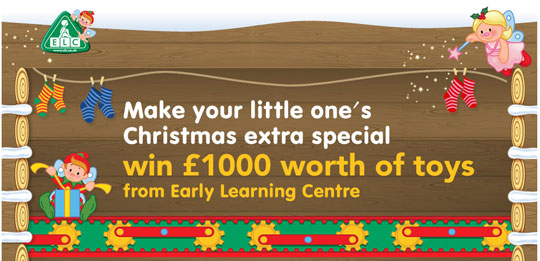 If you're not involved with the real nappy revolution then you might want to enter this competition to win a year's supply of Huggies nappies; they're giving this prize away to celebrate their 50th anniversary and, if you win, you'll be celebrating not spending a fortune on nappies for a year.
Just fill in your details before 14 October to be in with a chance of winning.
The Early Learning Centre are giving away £1000 of toys to the lucky winner of this competition!
One. THOUSAND. Pounds worth of toys; that's insane and, to be honest, I think I'd give away the £1000 to the childrens' ward at my local hospital if I won.
You don't have to be feeling as generous as me though, you could just keep £1000 worth of toys all to yourself and enjoy every moment with them.
Enter your details before 10 November to make sure you're in with a chance.
Has your car seen better days?  Or perhaps you just fancy a new one!
Enter this competition and you could be driving a brand new Peugeot 308.
Now, you need to get a quote from the insurance company who are giving away the car  - just be careful that you tick, or untick, relevant boxes so you aren't spammed from here to kingdom come for the next hundred million years!
But other than that, that's all you have to do.
Have you ever wanted to get away somewhere completely different?  Somewhere that's not your run-of-the-mill holiday on a beach somewhere?
If you have, have you ever considered Zagreb?!
That's where the winner of this competition will be going - it's in Croatia, in case you were wondering.
The prize includes prize return Lufthansa flights for two, two nights' accommodation, breakfast, travel insurance and money towards transfers from the airport to the hotel; awesome!
The answer to the question is 'Sava' and you need to enter before 18 October.
GOOD LUCK!
Thanks to littleprincessnicky, andywedge, snowshine and haigythescotsman at HUKD