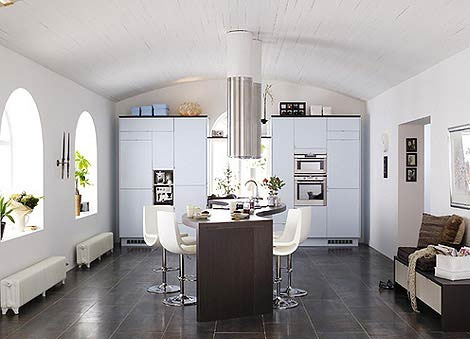 I've been attached to my computer since 6am this morning - trust me, I haven't been doing anything earth shattering - and spotting this White Stuff competition had me the most animated I've been all day; I LOVE stuff from White Stuff.
If you win, you'll get a White Stuff goodie bag containing a £50 voucher and various accessories also worth £50.
No questions to answer, simply fill in your details before 16 October.
I knew I'd REALLY been at the computer for too long when I came across this next competition...
The chance to win a Kenwood food processor and Le Creuset saucepan set really had me clapping my hands together with glee.
You see, I adore anything Le Creuset (apart from the price) and new kitchen gadgets do it for me too; bizarre really, as I don't like spending hours and hours and hours slaving over a hot gas hob!
Win this competition and you'll receive Kenwood multipro excel food processor worth £349.99 and a Le Creuset 3-ply, stainless steel saucepan set worth over £200,  PLUS a copy of the MasterChef Kitchen Bible; awesome!
The answer is Thomasina Miers and the closing date is 13 October.
It's no good having shiny new Le Creuset pots and pans, along with a swanky Kenwood mixer, if your kitchen is looking a little tired and dated.
Enter THIS competition and you could be the lucky winner of a £1000 kitchen makeover and a baking day with Ruth Clemens (I'll be honest with you, without asking my good friend, Google, I can't tell you she is).
To be in with a chance of winning: fill in your details and complete this tiebreaker question (in no more than 15 words) 'I need a kitchen makeover because...'
The closing date for entries is 30 November.
After all that cooking, baking and kitchen makeover'ing - I need a drink!
Something a little summery to celebrate the fact that summer hasn't quite left us yet - six limited edition Union Jack bottles of Pimms; hurrah!
The answer is Pimms ice lollies and you need to submit your entry before 2 October.
GOOD LUCK!
Thanks to Dipsy11, shonae2000, Arstar and lkscotland at HUKD