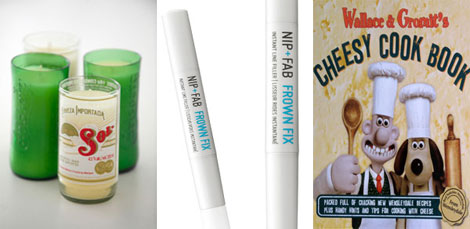 AndyWedge from HUKD dropped us a line the other day to let us know about the obscene amount of free competitions that are currently running over at Made For Mums - you have to be a member of their site to enter, but it's free and will only take you a couple of seconds.
Do 28 competitions count as 'obscene'..?  Ok, so probably not but there are some rather awesome prizes up for grabs.
You can win a big bundle of breastfeeding malarkey by simply filling in your details before 15 July.
Or there's an amusing Wallace and Grommit cookbook up for grabs; "Cracking prize, Grommit."
There are 50 being given away and will show you all sorts of things you can do with a bit of Wensleydale!
No question to answer just fill in your details before 24 June.
We've featured the St Eval Candle Company a couple of times here on PlayPennies; their candles are always A-MAZ-ING and now you've got a chance to win a candle from the St Eval's Beer Bottle collection, for your dad for Father's Day (as long as he doesn't mind it being a bit late - because the competition doesn't close until 27 July and Father's Day is THIS Sunday...)
Apparently it's perfect for dads who love to unwind and spend balmy summer evenings in their garden - if we see the return of those it'll be nothing short of a miracle, I'm sick of the rubbish weather now.
As I've already mentioned, the closing date for entries is 26 July and you just need to hand over your details.
Now I'm DEFINITELY going to be entering this competition to win some Nip + Fab 'Frown Fix'.
It's supposed to be like Botox in a tube and is absolutely IMPOSSIBLE to get hold of; as soon as it comes into stock in Boots it's sold out within minutes - there have been pictures in the press of people queueing round the block for this stuff.
It's not expensive, it's just AWESOME!
Enter your details before 2 July for your chance to get your hands on some.
Those are just some of the competitions running over at MadeForMums - others include mega expensive pushchairs, nursery furniture, vouchers, books, toys and all sorts.
Go and have a look and GOOD LUCK!
Thanks to andywedge over at HUKD