Free Competitions: LIMITED EDITION LIQUID SILVER CUFF WORTH OVER £800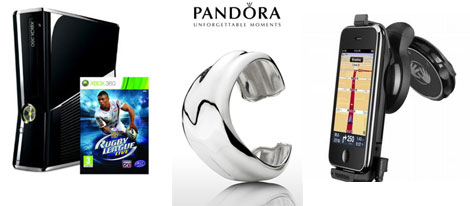 I'm a Rugby Union girl, but this Xbox 360 comes with a Rugby League game...no matter, you can have the game and I'll keep the xBox *grin*
[Expires - 21 November 2010. Answer - Lord Street]
If you're more into jewellery than jostling for the ball on the rugby pitch, then you might want to chance your arm in this competition to win a limited edition silver cuff worth over £800.
It's rather stunning but if it's not your cup of tea, then I'm sure whoever you choose to give it to would be v e r y happy indeed!
No question to answer, just fill in your details.
[Expires - 21 November 2010]
Still not tempted? Ok, win a Day Spa Experience for two worth £216, which includes a floatation pool experience, refreshments, lunch and use of all spa facilities! How about that?
[Expires - 21 November 2010. Answer - 6]
This might just do it - an Apple iPod Touch with Sat Nav and TomTom GPS Cradle! Map reading whilst driving is a thing of the past and Sat Nav is the only way forward - I'd be lost without mine *grin*
All you need to do is vote for your favourite driving classic, and fill in your details of course!
[Expires 21 November 2010]
GOOD LUCK!
Thanks to VeedubyaGti, Robertkay and Ticklerik over at HUKD