Free Competitions: Win a Limited Edition Little Tikes Coupe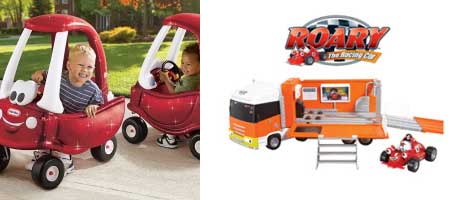 If you're little tike LOVES Little Tikes, then you'll want to enter this competition to win a Little Tikes 'Ruby Edition' Coupe (Ruby, because it's their 40th anniversary see!)
Register with the website to be entered (you can always unregister later).

[Expires - 14 December 2010]
Boost your little one's wardrobe with an outfit from Little Explorer's of London by entering this little competition.  Answer the following question and fill in your details: What is the name of the leisure centre that the 'Little Explorers of London' shop is located opposite?
[Expires - midday 12 November 2010. Answer - Brentford]
Perhaps your young explorer is more Dora the Explorer than Little Exporer's...or maybe a bit of both! So enter this one to win a Dora the Explorer goody bag.
No question to answer, just fill in your details.

[Expires - 19 November 2010]

Our review today was all about a Roary the Racing Car 'Loada Race Day Truck' - if you fancy winning some Roary toys worth £45 for your little racing fan, just in time for Christmas then this one's for you!
[Expires - 29 November 2010. Answer - 140g]
GOOD LUCK!!!
Thanks to robertkay, lucerysmum and johnroberts147 over at HUKD!