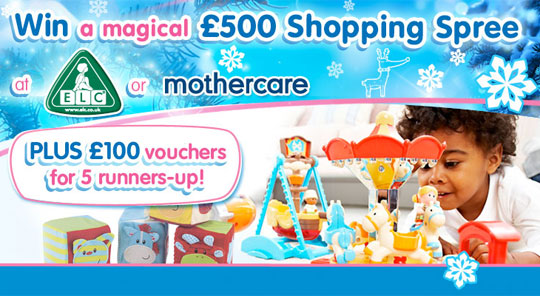 Oooh Christmas is inching ever closer and I'm completely done with my Christmas present shopping now.
But presents aren't just for Christmas, especially if you have youngsters in the house, so here's a competition to win £500 of vouchers to spend at either Mothercare or ELC to help easy the post-Christmas present buying burden.
The answer is 'red' and closing date for entries is 4 January 2012.
I have a confession to make...
"My name is Sarah and I like Olly Murs!" there, I said it! Like him or loathe him, if you can spot Olly Murs in this competition then you could win an iPad 2.
The 'spotting' has been done for you - the answer is option number four (An Olly Good Christmurs (show), The Crush (show), Justin Bieber And Mariah Carey - All I Want For Christmas Is You (news), Olly Murs (artist)) and you need to submit your entry before 21 December.
I do love a good Christmas hamper and this one looks properly awesome as it's packed full of scrummy things from Garner's - if you don't know who they are, you've never tried their pickled onions, they are the BEST pickled onions in the whole wide world EVER! I kid you not.
Simply fill in your details before 18 December to be in with a chance of winning.
CASH!  I LOVE CASH!  I love cash more than Olly Murs - actually, I don't love Olly Murs, I just 'like' him - but I DO love CASH!
There's £1000 up for grabs with this competition and you just need to answer a simple question to be in with a chance of winning it.
The answer is '3' and, if you don't want to miss out, then make sure you enter before midday on 28 December.
GOOD LUCK!
Thanks to littlebutton, xcm07zfu and replay at HUKD