Free Competitions: Win A Trip To Los Angeles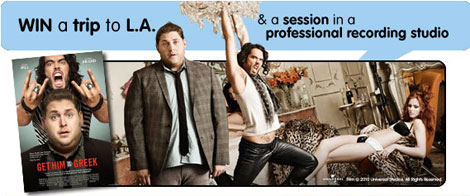 OOOH it's Friday 13th! Unlucky for some, but could turn out to be a lucky one if you enter and win one of the following competitions.
Fancy yourself as a bit of a pop star? Or just fancy having a bash at something a little MORE than karaoke down at your local pub? Here's your chance to win a trip to Los Angeles and a session in a professional recording studio! I can't sing without offending small children and animals so I don't think I'll enter this one, but if you do...GOOD LUCK!
Answer this question and enter your details for your chance to win: Which of the following actresses stars in Get Him to the Greek?
[Expires - 22 August 2010. Answer - Rose Byrne]
I love cameras, which is a good thing as I'm a photographer when I don't have my PlayPennies hat on! I'm very excited about where cameras are headed, even the point and shoots are behaving more and more like the pro cameras!
This Panasonic Lumix camera, worth £239.99, is a lovely little camera absolutely crammed with features - enter this competition, I really hope you win because it's an ace little thing!
Just say which three famous people, from the past or present, you'd invite to a summer party and fill in  your details.
[Expires -27 August 2010]
Calling all film buffs! How would you like to win a Sony HD TV, Blu ray DVD player and a whole stack of DVDs?  No? Oh, ok then...erm...move on to the next one.  Seriously now (*grin*) this is a great prize and all you have to do to enter is answer this question and fill in your details: In 50 First Dates, Drew Barrymore's character Lucy suffers from which condition?
[Expires - 27 August 2010. Answer - Amnesia]
Are you into gaming? Would you like to GET into gaming? Enter this competition and you'll bag yourself a new Xbox 360 along with a copy of Identity on DVD.  Here are the answers that you'll need to enter for your chance to win:
1.Ashes to Ashes
2.The Terminator
3.EastEnders
4.4oD
5.101
6.The Simpsons
7.Myleene Klass
8.Orla Brady
9.The NHS
10.Day
11.Donkey
12.BBC Radio 1
13.Frankie Howerd
14.Robin Hood
15.Stanley Kubrick
[Expires - 8 September 2010. Answer - see above!]
Be lucky everyone - see you on Sunday *wave*
Thanks to BlueMG, Jedi Master, KAC and Andywedge over at HUKD!