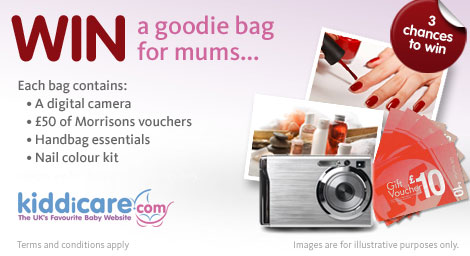 If your daughter has always fancied a Trunki but you've not fancied spending over the odds on a plastic suitcase with wheels and horns, then have a bash at winning one instead!
Trunki are giving away 10 Penelope Princess Carriage ride-on Trunki suitcases as well as a Pink Saddle Bag, Pink Neoprene Pencil Case and Pink Wash Bag to go with each suitcase.
The answer to the question is 'Middleton' and you must enter BEFORE THE END OF TODAY.
Kiddicare are giving away three great 'Goodie Bags for Mums' and I have to say it's just a great prize for any woman, even non-mum ones!
The prize includes:
£50 worth of Morrisons vouchers
A digital camera worth up to £100
A set of gorgeous handbag must haves
A 5 piece luxury nail varnish set
How awesome! The answer is 'Baby Products' and you must submit your entry before 18 May.
Do you have a young LEGO fan in your household? Are YOU an AFOL - an Adult Fan of LEGO?
I am, so I'll definitely be entering this competition to win a LEGO City Police Mobile Unit worth £41.99.
The answer is 999 and you need the closing date for entries is 13 May.
I'm in an anti-TV mood again today so instead of TVs or games consoles, the last competition of the day is a set of six Peppa Pig books.
Reading with your kids is a wonderful way to finish off a day or kill some time during the afternoon so, go on, enter this competition and see if you're picked as the winner - someone from PlayPennies has to win one something one day.
Just enter your details before 31 May for your chance to win.
GOOD LUCK!
Thanks to RobinT, missgem and lucerysmum at HUKD