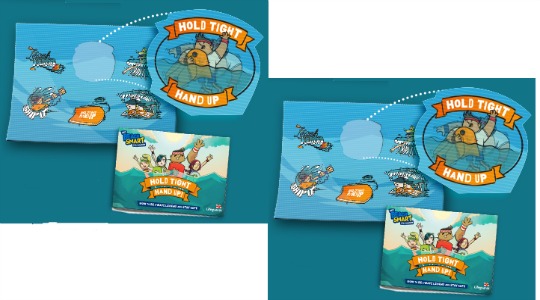 With the nice weather it's lovely to spend a day at the beach with the kids. My biggest fear is when they swim too far out in the sea. I don't know if it's because I was brought up in a coastal town or not, but we had beach safety drilled into us at school. As far as I know my son has never had anything like that and he is now in Primary Six. Scary!
You can of course teach your child about the dangers that come with open waters and to help you along your way, the RNLI are giving away FREE Beach Smart Safety Packs called Hold Tight, Hand Up!
In each Hold Tight, Hand Up! Safety Pack is a sheet of animated stickers and you also get a Hold Tight, Hand Up! Wave Catching Guide. These should aid you in explaining about the fun that can be had down at the beach but the precautions to take to ensure nothing bad happens. It also tells kids what to do if things should go wrong.
All in all a handy little FREEBIE from the RNLI.
Thanks to square72 @ HUKD