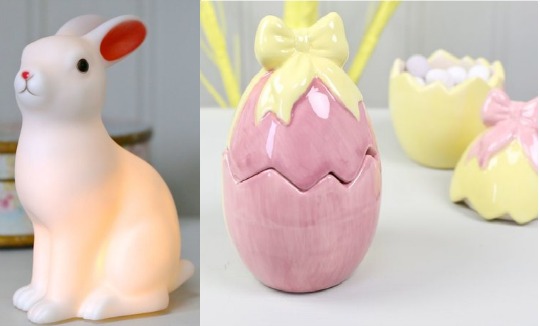 Easter is a great time of year, the sun starts making an appearance again, there are daffodils and more importantly lots of chocolate. Lisa Angel has a great range of Easter Accessories. I like the unusual nik naks that Lisa Angel are selling for Easter and items start at just £3. If you are an Easter fanatic like myself then you need to check out what's on offer. As always you get FREE delivery on all orders.
Easter is a time of year that the kids love, and it is certainly becoming bigger every year. Embrace it and get stocked up on Easter goodies.
Here's what you can get your mitts on from Lisa Angel: Porcelain Easter Egg Trinket Boxes* just £4 each. These are a nice little present at Easter as you can fill them with sweets like chocolate buttons or Mini Eggs. I absolutely adore these Rabbit Night Lights...Baby Bunny* at £4.50 delivered and Woodland Rabbit* for £5 delivered. Those are just ideal for giving to those too young to enjoy and Easter egg.
There's lots of nice Easter bits and pieces that are that bit different so you are bound to find something special.