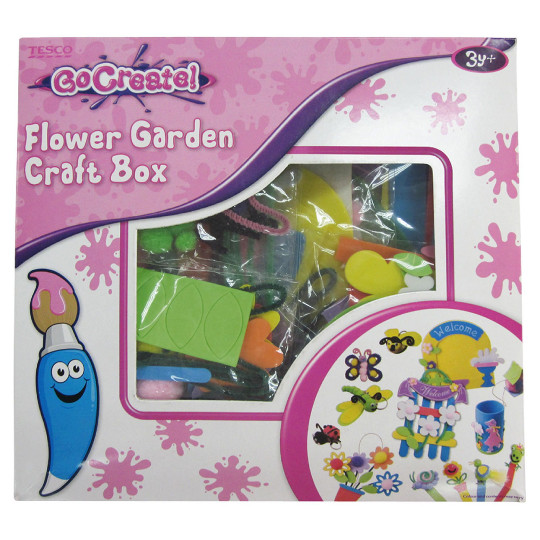 My daughter received the Go Create Flower Garden Craft Box as a birthday present a few months ago, and as we've been spending a fair bit of time at home recently, we've been getting creative with the crafts.
The Go Create Flower Garden is a shape and glue craft, with foam pieces all cut out and placed into little plastic baggies complete and ready for their craft activities. There's no instruction book in the box, but there are images of the finished products on the back of the box. I found this a little tricky as you can't always see what each bit is for just by looking at the tiny picture.

Even so, we managed to build all the different projects - there are loads of different things to make in the bag, like keyrings, stick figures, a door hanging, a welcome sign and so on - without hassle. We didn't do everything exactly like it was in the picture either, but used it as a rough guide.
There's so much in the box that we did one or two bits a day and it gave us well over a week's worth of crafting activities, which I thought was exceptionally good value for money. This is a Tesco own brand product, and it sells for £4.47.
The only thing that I think can really be improved is that it can come with glue that will stick it, or even better, all the foam rubber bits could be self adhesive stickers. We bought 'gloopy glue' as my daughter calls children's craft glue, and while it is supposed to stick most things, it did nothing on the foam rubber except wet it. We then bought a different glue and that worked quite well, but a few days later my daughter was able to pull it apart again. Self adhesive stickers would make it a lot less messy and a little more permanent.
Overall however, for price, value and the sheer amount of crafting time you get out of it, it's a fantastic product, which I'd recommend to friends, and would definitely pop in stockings for little Christmas presents and stocking fillers.