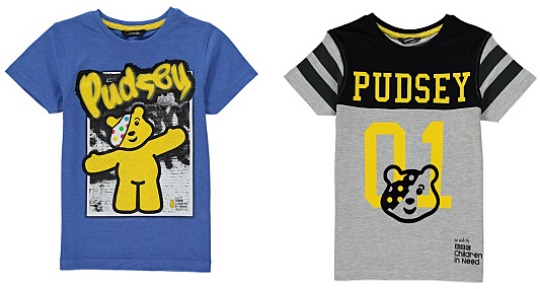 It's fast approaching that time of year for Children in Need. I do donate, but I can't watch it on television as I find it harrowing, proof that ignorance is bliss. The local schools normally run special Pudsey days and trying to get Pudsey tops any time near it soon becomes an impossibility, so this year I am getting in early. Get yours now from Asda George from just £3. 18% of the purchase price goes to Children in Need.
I am a little bit stumped why Asda have marketed these as boys tops, especially the grey one. The grey top is made from 96% cotton and 4% viscose and the blue is comprised of 60% cotton and 40% polyester. Both are absolutely fine to machine wash.
No I am not one for ramming the charity issue down peoples throats, as much as we all work hard for our money, for me charity begins at home. I am sure most of you feel the same. The thing about Children in Need, is that charity does begin at home, the funds made are donated to UK charities for young people.
Collect your Pudsey T Shirts for FREE from your local Asda store or pay £2.95 to have them delivered.
Thanks to pauls2010 @ HUKD