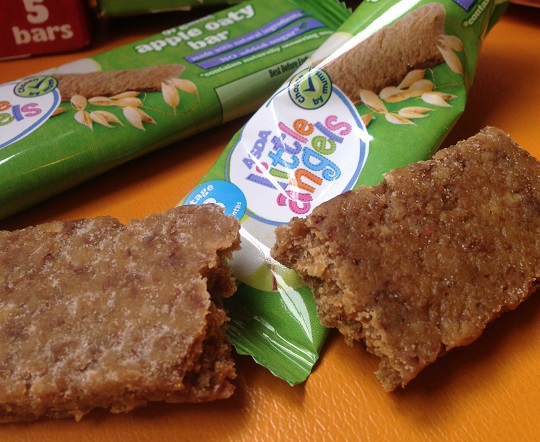 Snacks. When you're out and about with a little one you need to have something to hand. If they get hungry they're hungry right now. And if your child is anything like mine, they turn into little terrors when their blood sugar levels are going nuts.
For my own sanity if nothing else I always had something tucked in my bag, or for use at home for those break times between the main meals.
Asda has a new range of organic products from their Little Angels brand. These are for Stage 3, ie, 12 months and upwards. We received three packs of the organic oaty bars in apple, strawberry and apricot, and three packs of raisins, sultanas, and raisins & sultanas. Read on to find out more!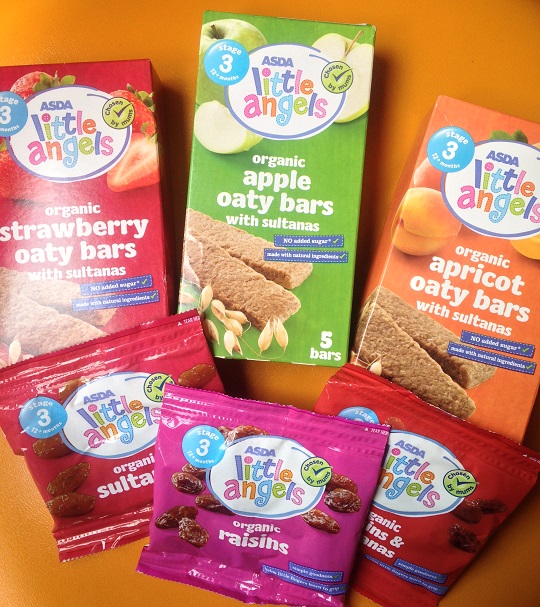 Asda Little Angels oaty bars (£1.99 per box) are organic, and contain no artificial colours, flavours or hydronated fats. They also use gluten free wholegrain oat flakes (35%) and organic rice flour. The sugars in the bars are naturally occurring. The flour is from juice concentrate.
The texture of these bars is about as smooth and cake like as you get with these ingredients. A little bit gritty, but enough texture for a baby while at the same time being easy to swallow and chew on. You get 5 bars in a 125g box.
We tested them out on a one year old baby, who happily gummed away on them as well as taking little bites with their ever so cute front teeth. The adults also tried the bars. We all liked the Apple bars the best. These had a surprisingly strong, and fresh flavour. I was surprised though at how little flavour there appears to be in the strawberry bar, while the apricot bar was somewhere in between. Our wee tester happily ate all three so no idea what her preferences might be!
The little packts of raisins were quite good too. We received one each of the Asda Little Angels 20g bags (40p each or 3 for £1), of the raisins, sultanas, and raisins & sultanas. What can we say - they're raisins and sultanas. However, not as juicy as the usual organic brand we get in a box, and also we did rather prefer the box. It was easier for baby to hold and not tip everywhere. That said, boxes do have their downside in that they tend to get 'gummed' too, and end up rather soft and soggy.
Overall, we liked these bars more than more expensive brands, so will no doubt be switching. Especially as our young tester didn't even seem to notice they weren't her usual bars.