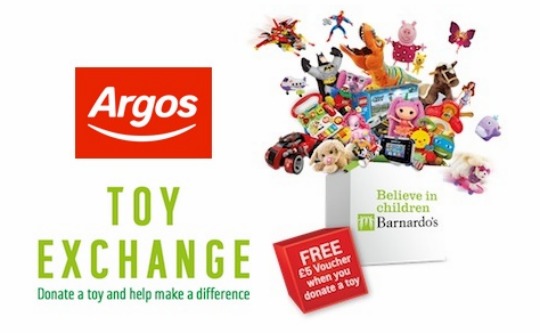 For the fourth year running Argos are teaming up with Barnardo's to help raise funds for the charity. The idea of the scheme is that you take an old toy, but one that is in good working condition as it will be sold in Barnardo's stores, into Argos and in return they'll give you a £5 voucher that you can then use when you spend £35 or more on toys.
My daughter and I have taken a toy into Argos each year since this scheme started. I found it helpful when she was very young as it helped me explain to her that not every child and family are as lucky as we are at Christmas, without it being too heavy. Now of course she's that bit older she realises that herself and still loves doing this. I know when she reads this later today she'll be eager to decide what she can take.
You can find out more about the scheme here.
You also get that £5 voucher and you can collect one of these from today (September 30th) until November 20th, so a good long time to sort something out. You can redeem your voucher right up until Christmas Eve. In previous years they've had a special desk set up for donations and it's clearly marked as such.
If you want to take a look at what you could spend your voucher on head over to Argos* for a look around.
What do you think? Something you'd like to get involved in this year?
Thanks to VillaGoMarching!