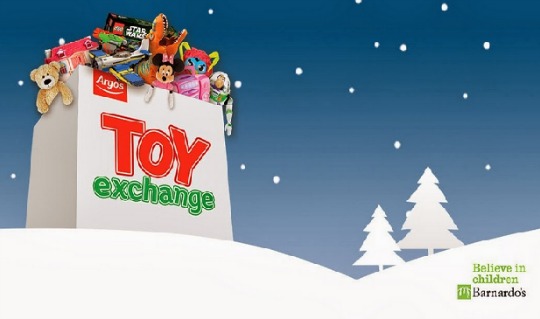 Do a good deed this winter, and donate a toy to your local Argos store. Make sure they are in good working condition as they go to the children's toy charity Barnardos. By the sounds of it, they get sold on to make funds for the charity's cause. In return, Argos will gift you with a £5 off a £35 spend toy voucher. The voucher is only valid on toy purchases at Argos.
The Terms and Conditions are as follows:
Toys can be donated to Argos or Barnardo's stores between 1st October - 25th November 2014. You'll receive a £5 voucher per donation (not per toy). £5 voucher is redeemable when you spend £35 or more on toys at Argos from 1st October - 25th December 2014. Voucher cannot be redeemed in conjunction with any toys multi-buy promotion, for example 3 for 2. Voucher can only be redeemed in Argos stores. Customers can Check & Reserve products online and redeem their voucher when they pick up and pay in-store.
I am sure you will agree that this is a lovely little scheme ran by Argos and Barnardos. You get to clear out unwanted toys for Christmas and Barnardos get to make some money for young people in need.