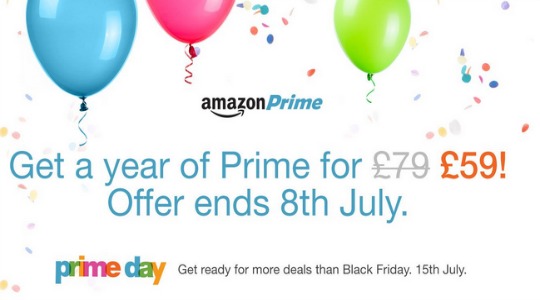 Have you often thought about becoming an Amazon Prime member but were put off paying the £79 annual fee? Amazon have sliced £20 off the joining cost, meaning that for just £59 you will be entitled to a year's worth of FREE One-Day Delivery. Now that Amazon have increased their minimum spend for super saver delivery to £20, it can make sense to join AP if you are a frequent Amazon shopper. Be quick in signing up to it at this great price as this offer is only on until the 8th July.
What's even better is that you can share the cost of Amazon Prime with up to another four people. A maximum of five people can use one subscription which works out at a cost of £11.80 each. That's a cracking deal!
As well as that FREE One-Day Delivery, you can get access to over 500,000 eBooks for FREE. As if that wasn't enough, on the 15th July (next Wednesday), Amazon are holding a special Amazon Prime Day. They are promising to have more Lightning Deals than on Black Friday. We cannot wait to see what they pull out of the bag and you can guarantee that we will let you know all about them on the day. There's one condition to these deals, you MUST have Amazon Prime.