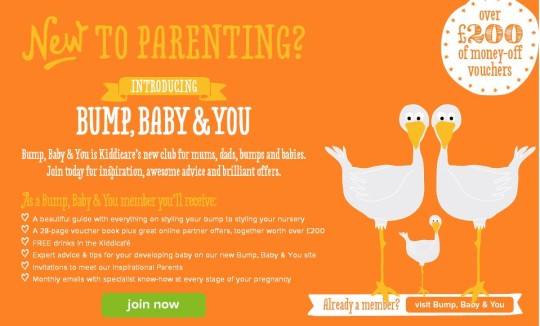 Kiddicare have launched a new Bump & Baby Club and it's a bumper - no pun intended.
This new club is much like other baby clubs, but instead of just advice and tracking your baby's development, you'll also get £200 worth of vouchers to use towards those baby essentials you may want during the early years.   You will also receive a guide for pregnancy and beyond, a 28-page voucher book with great online partner offers and monthly emails with specialist know-how at every stage of your pregnancy.
Vouchers include money off spends, like £5 off 30, £10 off 60, £15 off 100, 20% off toys, 20% maternity and 20% baby clothing and 10% off nappies. If you live locally you'll also be able to use six free drinks vouchers. These may change, of course, so this is just an example of what's available. One of the best perks of this club as far as I'm concerned though, is that you now get an extra 5% off all sale prices.