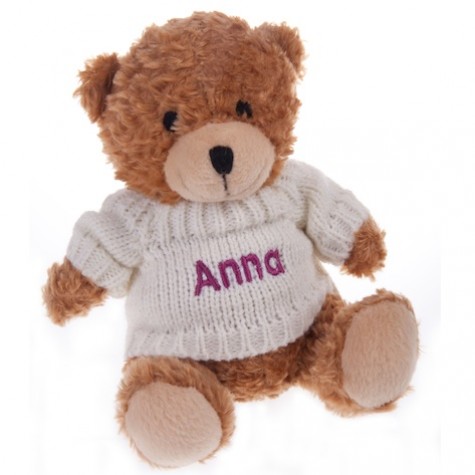 My 1st Years are no strangers to PlayPennies. We have in the past reviewed their apron, booties, and mother's day bear, all of which has been loved by reviewers.
Today we will be reviewing their personalised Teddy Bears, which are sold for £14.
My 1st Years has been around as a company since 2010, when they started making personalised baby gifts and clothes that were both stylish and affordable.
At first they started small, with baby clothes, then branched out to shoes, outfits, bears and accessories.

The introduction of trendy baby shoes provided a natural extension to these products, and in addition to the simple accessories have become firm favourites. My 1st Years now offers a range of products for everything from baby shower gifts for a mum-to-be and a range of engraved products for a child, and a few perfect items for the memory box.
Nearly all of the products on our site can be personalised online and sent straight to you or direct to the recipient. Every order will arrive gift wrapped inside a complimentary luxury gift box with a large white bow. The box it arrives in is pretty sturdy, and my daughter now uses it to house her LEGO Friends collection.
The personalised Teddy Bear is lovely. It is soft, and sweet, and cute and very cuddly. Although intended for her little sister, my toddler loves it and takes it to bed with her many a night. It comes wearing it's own T-shirt, which is the part that can be personalised, and to make it safer for babies, the eyes have been soft stitched rather than stuck on or sewed on, and the fur is 'delicate' to ensure it meets the highest level of safety regulations and standards.
The Teddy is really very soft, and the shirt it wears is a little knitted number, which is also a lovely quality.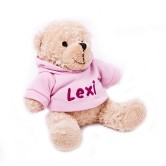 As far as bears go, it is really very cute.
The ordering process is quite easy too: You start by choosing a text colour for your personalisation. Your choices are pink, blue, white, yellow, red, pink and baby blue. Then you get to choose a font. Choices here are slightly more limited, but sufficient. There's a rounded font or a 'handwritten' to choose from.
Next up you add two lines of text with up to 10 characters per line, so you could do something like baby's name and date of birth, or a (very short) message - with love, Granny, or something like that.
You also have the option to not personalise. I'm not sure if this means he comes with a plain white jumper, or whether it comes with the words 'my teddy' on it. We didn't personalise for the review, and that's what ours said.
The Good
This is a beautiful teddy

It is very well made

It's a lovely gift

Beautifully presented

It can be personalised, and as such can be kept forever, and makes a nice, small enough contribution to the memory box

It's a good size for a little one that may or may not play with it. 
The Bad
It's £14 for a tiny teddy bear. It's beautiful, but it's not massive. It's also not the most expensive bear in the world, but its definitely the kind of thing you give as a gift, and normally only to a first time parent, because 2nd time parents have realised that babies don't play with teddies!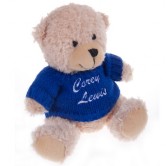 The Verdict
There is absolutely nothing to criticise on this bear, and there's nothing about the product itself to have a negative comment about. It's lovely, cute and sweet. It's well packaged and looks great as a gift. It's not a baby essential, and for the first year at least the baby probably won't even look at it, much less play with it, but that's a second - or subsequent- mother's secret. First time round we all thought our babies were going to love the multitude of soft toys every baby seems to receive.
If you're looking for a Teddy bear, you can't go wrong with this one. It's beautiful.