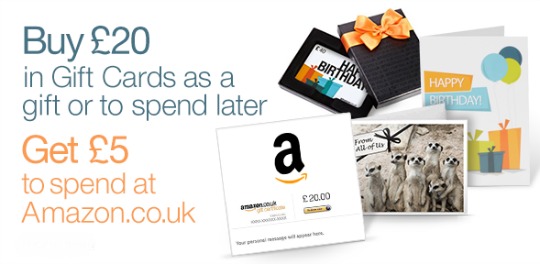 If you signed up to Amazon Family in the Johnson's baby wipes deal that we posted, then chances are you have received an email this morning stating you are entitled to an exclusive deal. This deal is a good one, but you can only benefit from it if you have received the email. How many times have you just deleted an email without reading it? Well, we thought that a little heads up from us would prevent that.
How does the deal work? Simply check your emails to see if you have got THE email from Amazon. If you do then great, read on. Purchase at least £20 gift cards on Amazon.co.uk by 14 September, 2014 and you will get £5 (in the form of a promo code) by the 19th September to spend. Why not buy yourself a £20 gift card to spend and bag yourself that extra £5? That's certainly what I will be doing, afterall I do shop on there at least once a month.
Amazon always have great deals and if you keep an eye on here or on our Facebook page then you could end up with a mega bargain using your free £5 credit.
I must stress that only accounts associated with email addresses that have received the email with be able to redeem the offer. If you didn't get an invite then you won't qualify.
Full Terms & Conditions can be found here.