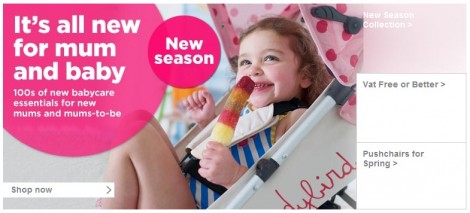 The Woolworths Mother and Baby event starts on the 28th of March and runs until the 12th of April. The online store is offering 30% off selected items in its Mother and Baby range. In addition, the site is running a sale on children's clothing, with 20% off.
The store has its new spring lines out in the shop (or should I say website?) now. It sells pretty much all the stuff you might remember seeing in its stores, when the chain still existed on the high street. Plus a lot more. In some ways it reminds me more now of a Mothercare combined with a BHS. But cheaper. Although, I have to say, not as inexpensive as I remember prices being instore.
Maybe it is because standard delivery is £3.95. I do like the quality of the Ladybird ranges though, and when I've got a fairly big order to put in the £3.95 won't seem so expensive!
One item I am particularly hunting for at the moment is a dinosaur costume, specified by my son for his 6th birthday. He really likes the one on the Woolworths site, the Dinosaur Child Costume priced at £11.99. That's £15.94 including delivery. The same costume is available at Play.com for £12.98 including delivery. The 20% discount would take it down to £9.59, making it £13.54 delivered. Which is still more expensive. So, the moral of the story is, a discount is great if it is on an item you can't get cheaper elsewhere, or if you're going to buy other items anyway, so spreading the cost of delivery.