WoolOvers: 10% Discount Voucher Code
I think I've just died and gone to heaven as a direct result of this 10% discount voucher for WoolOvers!
Discount: 10%

Minimum Spend: NONE

Promotional Code: POP2

Expiry: Wednesday 30 June 2010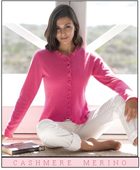 I LOVE jumpers!  There is nothing better, as far as I'm concerned, than putting on a pair of soft slopppy trousers and a big jumper at the end of the day and just r e l a x i n g.
I have a few jumpers and whilst fleeces are ok, sometimes they're a bit much and you need something 'thinner' which will still staisfy the cosiness element - WoolOvers have just the things and bearing in mind they're made from lambswool, cashmere or silk (or a mix of the three) the prices are amazing.
If you're thinking frumpy V-neck jerseys then you're going to be surprised because WoolOvers have sooo much more than that to offer; have a look...
PlayPennies ladies - I really like this cashmere frilly cardigan and have just ordered one of these hooded tops (ooops! Well I HAD to...all in the name of research you understand!) what do you think...?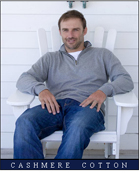 For our PlayPennies men, how about this lambswool crew neck jersey or maybe this cashmere cotton zip neck jumper - I rather like it even for me!
There's also no need to worry about looking after  your lovely woollen purchases because they are all machine washable and can go through the tumble dryer too.
Postage costs depend on the weight/value and your choice of delivery, full details are HERE
Now, what are you waiting for?  You've got until Wednesday and then you'll have to pay full price.
Thanks to edi over at HUKD!