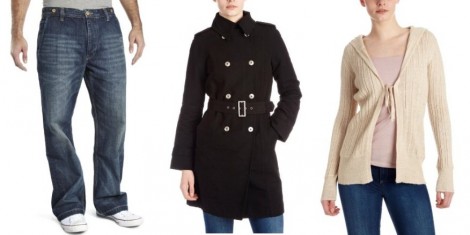 Amazon has a half price sale on Timberland clothing for ladies and men at the moment. Even better, 50% is just the starting point - some items I looked at were reduced by 75%. Delivery is free with Amazon Prime.
This is especially handy if you want to stock up on some coats and jackets for Autumn and Winter. In my personal experience, Timberland is a good quality brand that makes conservative, but stylish clothes that last quite a few years. The last thing I bought from Timberland was a jacket, ten years ago, and I'm still wearing it now.
In fact it is a lot like this Timberland Women's Waxed Trench Coat, which has been reduced from £150 to £37.50.
For the guys, you could pick up a nice pair of jeans. I really liked these ones, the Timberland Franklin Workwear Straight Men's Jeans, which are reduced from £70 to £25.46. Although the name of them had me giggling. I know they mean the leg is straight but it did conjure images of a line for straight men, and a line for gay men.
It is a shame that they haven't included the childrens' range in this sale but I will be keeping an eye out. One of the absolute best items of clothing I ever had for my son was a pair of Timberland knickerbockers. Honestly I know that sounds terribly middle class and pretentious but actually they were really hard wearing, looked fab even though they were hand me downs, and were a perfect fit for his Wellington boots in the winter!