One of my most favourite and must-have wardrobe items is a plain white shirt; teamed up with a pair of jeans it's a timeless look for both men and women.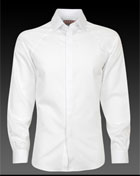 I'd had a plain white shirt or two for years but it got to the stage where they'd seen better days, so I popped out to go and replace them one day and came back empty handed.
It seemed it had become impossible to be able to buy a PLAIN white shirt! I didn't want one with pleats running down the front, I didn't want one with flowery patters in the material (almost like damask) and I didn't want one that was a super-skinny fit either.
After ranting like a crazy person, a friend gently pointed me in the direction of Thomas Pink. If you've never heard of them, I feel I should warn you now that their prices aren't Primark, they're not Florence and Fred and they're a tad more expensive than Next.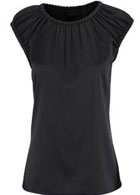 They don't just do white shirts though and catering for both men and women there's something here for everyone - this black top, for example, has been reduced from £85 to £25.
With their up to 40% off sale you'l be able to afford to pick up one of THE best quality shirts you'll ever put on your back for a fraction of the normal Thomas Pink price; wear a Thomas Pink shirt and you'll never look back.