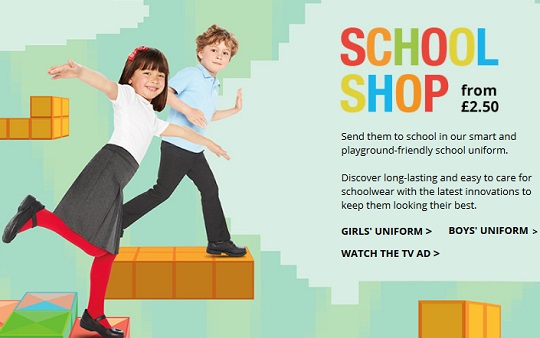 Save on all items of school uniform! If you're like me then you're still well into summer holiday mode. But still it is always good to get in new uniform as soon as possible. These Tesco eCoupon codes will save you from 50p to £2 on the price of all items of school uniform.
Click here to buy your school uniform at Tesco Direct
£2 off school shoes: use code SCHOOLSOUT4
£1 off trousers and skirts: use code SCHOOLSOUT2
£1 off school shirts: use code SCHOOLSOUT1
50p off school jumpers & cardigans: use code SCHOOLSOUT5
50p off school polo shirts: use code SCHOOLSOUT3
All the voucher codes run from the 3rd of August 2014 until the 17th of August 2014.
Select your items and when you get to checkout, enter the relevant promotional codes. Prices in the Uniform Shop already start from as low as £2.50 so you're looking at a fairly good bargain here, especially if you have more than one child to buy for.
You can also find these Tesco eCoupon codes and all other codes in our vouchers section.