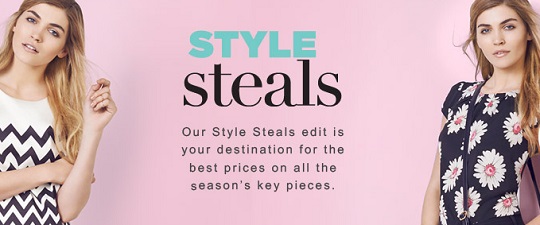 Usually I write about a really cool special offer or discount, but this new section from Dorothy Perkins is pretty nifty actually. They have called it Style Steals and everything in this section is £20 or less and you have items that are very much on trend.
Now before you think that the items are all urgh and blah, they aren't! Some are not that great, but the Pink Daisy cap sleeve top at £20 and the graduated zigzag tunic at £20 are both gorgeous. The Navy Sparkly thread jersey knit is £16 and the stone and black waffle dress is £20.
The lilac chunky rib knit jumper that would look gorgeous with jeans is down to £18 and you can grab yourself the very trendy nude shoes at £19. There are only a limited number of items in this section so you won't get a lot of variety, but perhaps one little treat for yourself?