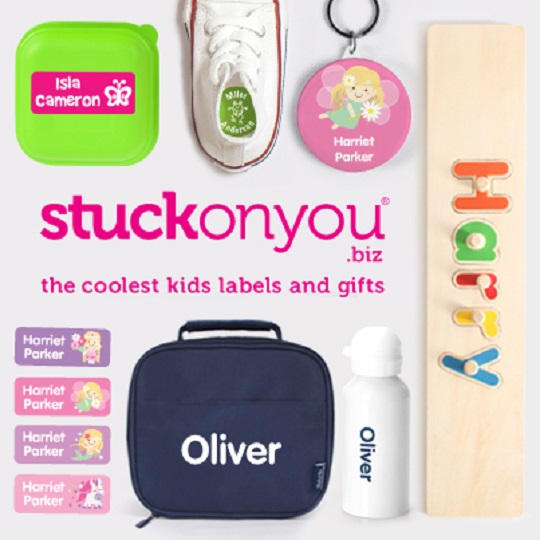 Did you just get your acceptance letter in the last few weeks for nursery or reception? If that's the case then you'll be starting to look at uniform, and all the other bits and bobs that go with starting school.
As a bit of an old hand now when it comes to the whole school routine, I would suggest that you label. Absolutely everything. Children, especially little ones, find it next to impossible to keep track of their belongings. Lunch boxes, cardigans, jumpers, jackets, PE kit are incredibly easy to misplace. You will be surprised at what your child can 'lose'. At least once in their school life they will come out at pick up time in their socks. Or maybe that's just mine ...
I've tried lots of different types of labels and laundry pen options. About two years ago, I was sent a pack of labels to try out from Stuck on You. And recently we received some more. Read on to find out whether these labels are really worth the investment.
Before we get into the review itself let me give you the one piece of advice I was given by a more experienced mum. When it comes to a really expensive item like their coat, write their name in HUGE letters in the inside. You'll be surprised at how many of the coats look the same, and this is especially true if your child goes to a school with a coat that's part of the uniform of course. For little ones this saves a lot of anguish in the cloakroom or heading back from the field after break time. And also deters the opportunistic who haven't brought in their coats on a day it rains. So far we've not lost a coat yet!
When it comes to labelling children's clothes, you can get a laundry pen, or iron on labels that you write on. However in my experience, the ink washes out and you have to keep checking to make sure the name is still readable.
Also, your handwriting needs to be clear. Having spent a few turns helping sort out the lost property cupboard at the end of the year, I've seen some truly indecipherable labels!
Stuck on You do a range of labels for clothing, which include  iron on and stick on labels, for shoes, lunchboxes, stationery and more. The labels are beautifully printed, and there are some really nice designer ones to choose from too. Two years ago I got the Stuck on You 5+ pack for £24.99, and last week for my son's year four school camp, I used the last of the stickers. I still have about half a dozen of the iron labels left.
The reason for this longevity is that I've found that the iron-on labels in particular last. I've only had a couple that have started to peel off, and in both cases they've only come off a little bit not entirely. I wonder if that's because I haven't ironed them down properly.
You absolutely have to use the little sheets that come with the labels, when ironing them on. In a rush previously I've tried to iron the label straight onto the material and just ended up a mess.
Usually what happens is that my children grow out of clothes before the label needs replacing. I have found them easy to take off though when you need to - iron over the label again, then peel.
The stick on labels come off a little bit too easily. Which isn't an issue with most items such as a pencil, or sports bag. But with his coat, I found the labels either moved or came off entirely while wearing when put on the inside of the coat. Here I had to stick with my tried and trusted sew-in labels.
The full name is on the label. When I write on labels I find I can never get the whole name in there. Although he is the only one in his class with this first name, there are other's in the school. A full name means I don't have to put class and year down as well. However most printed labels do that, and they often also offer little designs.
What made the Stuck on You labels different for me were the bright, strong colours used with a sort of plasticky material, so that the colours don't fade.
Overall I've been very happy with them, and I also recommend these labels to other parents.