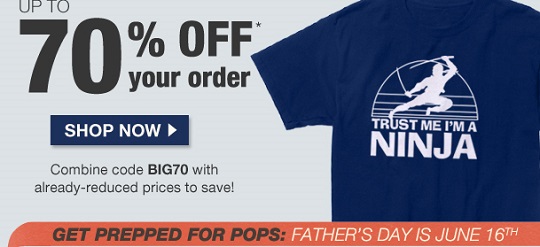 It's all about Father's Day savings at the moment isn't it? Café Press are hot on the trail with some ace deals on items for Father's Day. You can get up to 70% off on your order for Father's Day on 16 June.
To get your discount you will need to combine the code BIG70 with already-reduced prices to save even more money. You can get t-shirts and mugs and cards all personalised to match the personality of your father and you can even sneak something in there for yourself.
I really like Café Press actually, I got some ace Star Trek stuff for me last year (I am a total geek) and this year I'm thinking of some zombie stuff for my hubz as his presents for Father's Day. The great thing about this site is how you can personalise everything to suit.