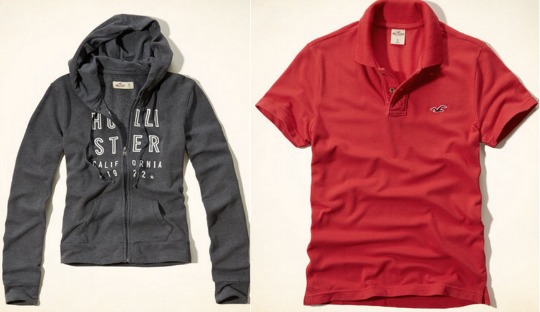 Hollister is THE brand that the trendies are all wearing. The fact that I use the word trendy means that I am not wearing Hollister. Anyway, THE Sale at Hollister is great. Their clothes are sought after so they come at a premium, getting them reduced is not only rare but an achievement. Sale items sell out SO fast at Hollister, meaning get there like NOW! Items start from just £3.50 and there's FREE delivery when you spend £25+
Let's start with the gals, there's lots of bargains including those famous Hollister hoodies that our teens like to slouch about in. This Hollister T-Shirt* was £19 and is now only £10.45, Hollister Leggings* was £34 and now £20.40 and the Hammerland Hoodie* was £44 now £24.20.
What do you get when you put two uber cool brands together? These Hollister+ Keds Champion Tropical Print Sneakers* with £25 off making them only £20.
The guys best deals are these Hollister Slim Chinos* for just £23.10, Zuma Beach Shirt* was £46 now £26.95 and the Malaga Beach Polo* now £20.40.