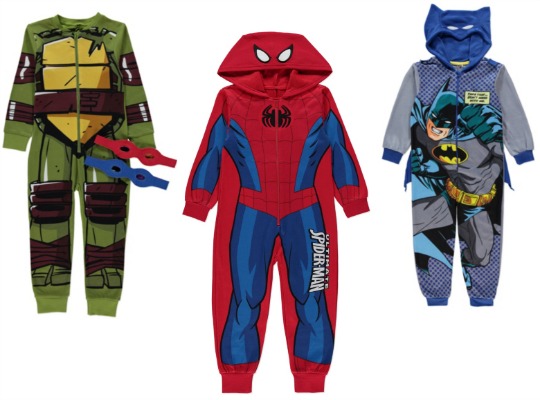 It's still pretty bitterly cold outside just now so make sure the kids are wrapped up warm in bed. One way to do that is to buy them a onesie. They keep the heat in so much better than two piece pyjamas. Asda George have reduced many of their onesies and whilst there are no obviously girly ones there's nothing to say that a little lady couldn't wear Spider-Man or Batman. Onesies start from just £3, so go take a look.
If your little one is a superhero fan then you are in luck, you might be interested in these: Spider-man* now £5, Batman* now £5, Teenage Mutant Ninja Turtles* now £4 and Ultimate Spider-man* now £4. There's a cool Tranformers Onesie* too for a fiver but I am pretty sure that doesn't fall under the superhero category.
There's lots of nice ones and are well worth the money. I especially like the micro-fleece ones as I find them to be soft for my sons' delicate skin and it is that bit warmer. Check out this Skull Onesie* for just £4.
You can Click and Collect your onesie order from you local Asda for FREE or pay £2.95 to have it delivered.