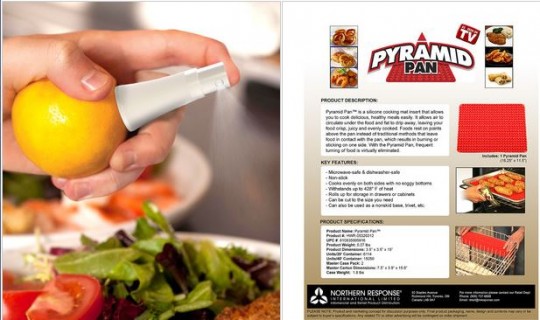 Zulily has some really random gifts on sale this weekend. They're totally weird and wacky, the kind of thing you give someone who already has everything, or a perfect Secret Santa gift. 
So what are these weird gifts? Well, for one thing there's a Quirky Stem Citrus Juice Sprayer - you plunge it into your orange and spritz, spritz, spritz. What a fab idea.
There's also an ingenious Pyramid Pan for £12.99 - a silicone cooking mat insert that allows you to cook delicious, healthy meals easily. It allows air to circulate and fat to drip away, leaving your food crisp, juicy and evenly cooked. Food rests on points above the pan instead of traditional methods that leave food in contact with the pan, which results in burning or sticking on one side. Awesome.
There are a few other weird and wonderful inventions, most under the £10 mark. Check it out.